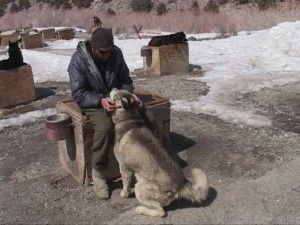 Recent snowfall in Mammoth Lakes is almost a spit in the eye for snow-dependent businesses that have struggled with terribly dry conditions most of the winter.  One of those is Mammoth Dog Teams.  They can't run dog sleds on dry trails.  Owner Jim Ouimet is still hanging in there.  In fact, he will appear at Thursday's Mono County Planning Commission meeting.
At 10:10 am in the Bridgeport Courthouse boardroom, Mammoth Dog Teams will ask for a use permit modification.  This includes extension of conditions to construct an office building, a new access point and lease-area adjustments for one year.
The current use permit allows for operation of the Mammoth Dog Teams commercial kennel.  All of this, as most know, is located at the County-owned, former sheriff's substation off Highway 395 north of the Hot Creek fish hatchery.
County planners indicated on the agenda that this project qualifies as a California Environmental Quality Act exemption.