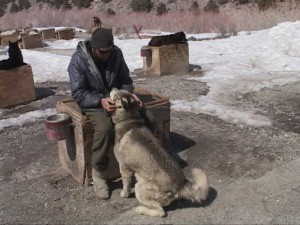 Snow and Dog sled rides go together, and Jim Ouimet of Mammoth Dog Teams has plans for another season. At last word, Jim and his crew continued to work on trails and equipment toward plans of the start to their season.
Mono County officials have said that they are still at work on a new lease for Ouimet at his longtime location just off Highway 395 at the old Sheriff's Substation. Mono County Administrator Dave Wilbrecht did say that Ouimet and his dogs can remain in the spot they have long occupied on county-owned property.
The county opted to board up the building except for the west end where Ouimet operates. When Mono County completely closes up that building next spring, they plan to ask Ouimet to move over to an area to the west of his current location.
Mono County has also been in talks with Mammoth Brewing about location of their facilities. Wilbrecht said lease agreements are scheduled to go to the Board of Supervisors in December.
Meanwhile, stay tuned for another year of dog sled rides for Mammoth.