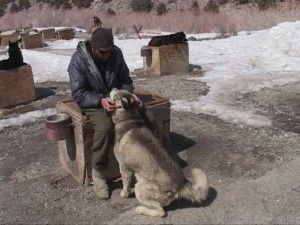 In the scorching July heat, few thoughts now go to dog sledding. But for Jim Ouimet, owner and operator of Mammoth Dog Teams, concerns have come up over his Mono County-leased facility.
Ouimet recently raised the fact that the main water line to his facility does not work. He said it froze in January from a well about 500 feet away. Now, he's hauling water – around 50 gallons a day – for his dogs. Ouimet said, "The County came down and decided to disconnect everything." He said now they don't want to re-connect the line.
While officials believe Mono County has no responsibility to provide a water line, they also see the value of Mammoth Dog Teams to the local economy. Ouimet said he had called Mono Public Works for help and then received a return call from the County Counsel's office to say Mono County does not owe Ouimet a water line. The whole issue will come up at the August 21 Mono Board meeting.
Supervisor Larry Johnston said there has been no vote but that there is a consensus on the Board to try to help Ouimet "succeed in his business. It's a unique, iconic Eastern Sierra snow activity," said Johnston. He said the location, which is the old Sheriff's Sub-station outside Mammoth Lakes, is a good one. Johnston said, "We want to try to give him an opportunity to succeed." He said he would like to see a way to hook up the water line.
Johnston also spoke of the possibility of fixing up the facility as a caretaker unit for Ouimet, including water and a restroom, since there are many expensive pieces of county-owned heavy equipment stored at the same location. Johnston said he believes housing money would be available to make minimal improvements for a caretaker unit. Ouimet, who endured a season with very little snow, hopes for a little help.