It appears that Mammoth Dog Teams and Mono County may be able to work out an agreement after all.
Jim Ouimet has been in fear of losing his lease for the old Sheriff substation south of Mammoth where he currently houses his sled dog business. Ouimet had rented month to month after a five year lease expired in 2008. Whether or not the county would continue to lease the property to Ouimet had been in contention in recent weeks.
While no agreement has been officially hammered out, Attorney Therese Hankel, who represents Ouimet, says that the Mono Supervisors expressed strong support for Mammoth Dog Teams at the board meeting on Tuesday. Hankel remains hopeful that the situation can be resolved.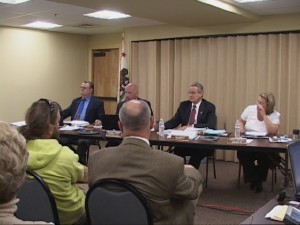 In front of a packed and supportive audience at the Supervisors meeting Tuesday, Ouimet and Hankel pled their case, focusing on the long tradition of dog sleds in Mammoth. Ouimet explained that the business had an 83 year history in the region. He had already removed the dog sled museum that he said he spent twenty years assembling and really meant a lot to me.
County staff explained that the county had to consider other uses for the property such as storage. Rehabilitation of the old substation to allow for commercial use was estimated at $414,000. County Administrator Dave Wilbrecht asked the board to consider future county needs and suggested that if the board decides to lease to Ouimet, that the lease be short term.
Hankel explained that at the end of the day, the Supervisors expressed support for the Dog Teams and directed staff to come back in 120 days with ideas that may include tearing down the building, but also to come back with options for Ouimet to lease land that he needs. The lease may be short term, such as five to ten years, Hankel reports. If the county does choose to offer to re-lease the land, Ouimet will have to put in a bid and others may be able to make proposals as well.