The height of new buildings in Mammoth has drawn strong views from locals who dont want their spectacular mountain views blocked by high-rise structures. So, with plans to go up to 90 feet, the Mammoth Crossing project proponents took steps to bring the public along with their ideas.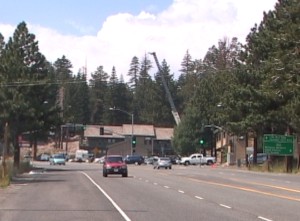 The public hearing scheduled for the September 2 Town Council meeting regarding the Mammoth Crossing/North Village Specific Plan Amendments and General Plan Amendments was continued to a special meeting on September 16 at 10:30 a.m. The reason for the postponement was so the public could witness height demonstrations on display Thursday, Friday and Saturday.
In an effort to try to show the public and the Council what approval of height amendments to the North Village Specific Plan and the General Plan, would look like for the Mammoth Crossing project, the applicants used cranes with balloons attached at the top to demonstrate their ideas. The three sites are located at three of the four corners at the intersection of Main Street and Minaret Road. On sites one and two (Whiskey Creek and church corners) the applicant raised the cranes with balloons to 90 feet, which is the maximum height they are requesting. On the third site, where the Ullr Lodge and White Stag now sit, the balloon and crane were raised to 85 feet, the maximum height being requested at that site.
On Thursday the demonstration took place from noon-2 p.m. The time will be the same on Friday, and on Saturday the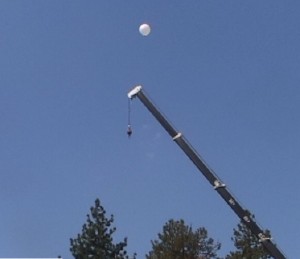 balloons will be raised from 8-10 a.m.
Several members of the public spoke about the project at the September 2 meeting. Local Tom Moody spoke against the project at its current size and mass. Local architect Bruce Woodward expressed his feelings that the height demonstration with balloons would not give an accurate visualization of the project because it does not show the mass. He felt that photos and modeling were better indicators of how the project would actually look once in place.
The architect for the applicant, Paul Merrick, did give a short presentation that used photo modeling to also give the public an idea of the mass of the development. Photos of potential building designs had been melded with photos of the streets and views surrounding the project. A discussion of issues and options related to view protection will also be held at the 10:30 a.m. meeting on September 16.