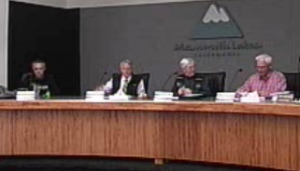 After the Mammoth Town Council spent closed session time Wednesday night on the massive Town lawsuit debt of $42 million, Sierra Wave spoke with Mammoth's Financial Consultant, Marianna Marysheva-Martinez.  She said the Town Council gave direction on a counter offer which Martinez planned to send to Mammoth Lakes Land Acquisition on Thursday.
Martinez said the Council also talked a lot about organizing questions and answers on the MLLA situation for the public.  Martinez said this kind of information may go public as a posting on the Town website or at a public meeting of the Town Council where citizens could ask questions and get answers.  This may take place as a special meeting or as an agenda item at a regular meeting.  Nothing will happen until early January.
The situation now – Town officials will wait for a response from MLLA to the Town's latest counter offer and discuss it at a December meeting. Officials have declined to reveal details of negotiations.  They point to a confidentiality agreement signed by both sides.
Asked about earlier reports that Mammoth Mountain CEO Rusty Gregory said he would be open to some kind of lift ticket surcharge to help the debt-strapped Town, Martinez said that this has not been pursued so far.  She said a surcharge would be a tax and have to go to a vote of the people.  The Town Council could place it on the ballot or an initiative could lead to a vote.
Martinez called this a timing issue.  A lift ticket surcharge measure would have to be finalized by early February to go on the next election ballot in June.  Martinez said she believes the mood of the public is for the Town to get its act together and explore options before taxing the people.  "We appreciate the willingness of Mammoth Mountain and others on this issue," said Martinez, "but it is not the first thing we would consider."