Since taking office last fall, a conflict of interest issue has kept Mammoth Councilmember Wendy Sugimura from being able to vote on issues that involve Mammoth Mountain Ski Area.
Left out of important decisions like the Eagle Lodge and Developer Impact Fees, Sugimura says that not being allowed to vote on town issues that involve the Mountain has been frustrating but the conflict should expire soon.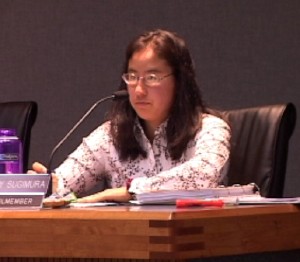 Conflict of interest issues, where personal business and financial matters could possibly influence a politicians decisions, often keep local council members from voting on civic business.
$500 is what keeps Councilmember Sugimura from voting on town business involving the Ski Area. Her conflict of interest arises from the fact that her husband worked at the Ski School on the Mountain. Sugimura explained that the conflict of interest ends one year after the last $500 transaction. The Councilmembers husband worked full time until Labor Day last year, so there is the possibility that the conflict of interest will expire very soon.
Town Attorney Peter Tracy advises the council members when they might have conflict of interest with the business at hand. The council members have to leave the room and dont get to vote.
With the Ski Area a major player in town, Sugimura calls the situation is aggravating, but asks is it better that council members do something illegal or to make the hard decision and do whats right?
Another common conflict of interest that causes council members to sit out a vote is where they live. If a council member owns property within 500 feet of a proposed construction project, for example, a conflict exists. In a town of four and a half square miles, council members have to recuse themselves frequently.