Some business people and others in Mammoth feel edgy about the economy and town politics. So, when Town Councilman Skip Harvey tried to defend his choice for planning commissioner by criticizing past decisions on the Village at Mammoth, public opinion erupted. Harvey planned to offer an apology at the Town Council meeting.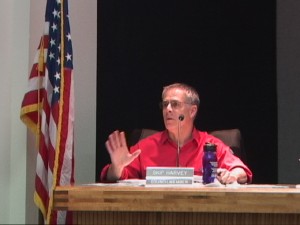 Harvey's reference to the Village at Mammoth as a "tumor" sent tempers rising. Business owners in the Village took angry exception to the Councilman's words. Many of those owners have gone through months of grave problems with the Village owners and with the sagging economy. Harvey's statements struck them as, at the least, insensitive.
Councilman Harvey wrote a letter to read at the council meeting. In it, he said, "It was a poor choice of words when I used the term 'tumor' to describe the Village. My frustration is with companies like CNL and other large corporations that put the burden of unrealistic profit margins on the backs of locals. The hardworking merchants of the Village," said Harvey, "are not only dealing with the tough challenges of doing business in Mammoth, but also have to deal with the games that are being played by corporate investors – a double whammy," he said.
In his mea culpa, Harvey said that in the future "before I make any comments about the Village I will put the faces of my neighbors, friends, and other business owners in the Village into my mind and think about how they, as individuals, will be affected by my statements." Harvey said Village owners and workers deserve respect and support.
Harvey's letter goes on to say that his earlier comments did reveal a bigger problem: "the amount of misinformation, misconceptions, sensationalism and distrust that circulate through our town." He called for community unity.