Doesn't a Reserve for Economic Uncertainty sound like it was made for these tough times? Officials aren't sure.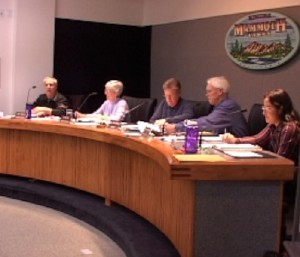 As a tumultuous economy continues and the Mammoth Lakes Town Council begins to evaluate this year's budget process, they are being asked by staff to consider how to deal with the Reserve for Economic Uncertainty, or REU, going forward.
According to Mayor Neil McCarroll, the Town began to build up the REU after two back-to-back no-snow years in the mid-1980s. That fund is maintained at 25 percent of the General Fund. It is intended to maintain service levels during unforeseen downturns and/or extraordinary expenses. One example of an extraordinary expense that the REU was drawn down for was the Hot Creek litigation, according to Town Finance Director Brad Koehn.
At their Jan. 6 meeting the Council was asked to consider whether or not they wanted to change anything about the current REU policies. Five questions were put before them including – should the REU be used to help "ramp" down services strategically when there is a budget gap, and should the REU be used to fund the immediate impact of a revenue change such as the State beginning to withhold Educational Revenue Augmentation Funds. Currently these funds provide about $2 million to the Town, according to Councilwoman Wendy Sugimura.
As the Council began to walk through each of the five questions before them, they found that they could not make firm decisions on what to do with the REU in the future. Officials said they would need to review scenarios on a case-by-case basis, which means the current Council may not even be the group that would deal with the issues.
"I don't want to create too much policy for future councils," stated Mayor Pro Tem John Eastman. Council agreed to make decisions on the REU on a case-by-case basis and left it at that.