(Town of Mammoth Lakes Press Release)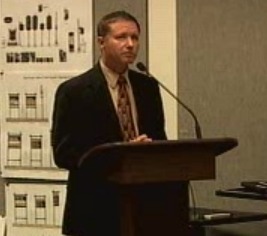 WARDLAW APPOINTED AS NEW COUNTY OF SAN DIEGO DIRECTOR OF PLANNING AND DEVELOPMENT SERVICES
Mammoth Lakes, CA – Community Development Director Mark Wardlaw will be leaving the Town of Mammoth Lakes to lead the new revamped County of San Diego Department of Planning and Development Services.
Prior to becoming the Community Development Director for the Town of Mammoth Lakes in 2005, Wardlaw served as the Deputy Community Development Director and Planning Manager in Culver City, and prior to that was the Principal Planner for the Centre City Development Corporation in San Diego. He will assume his new duties with the County of San Diego on September 21, 2012.
"The Town of Mammoth Lakes congratulates Mark on his new appointment with the County of San Diego, and wishes him all the very best in his new endeavor," stated Town Manager Dave Wilbrecht. "Mark was instrumental in shaping the future character of this community, and more recently, leading efforts on economic recovery and achieving long-term economic sustainability."
Mark's leadership, initiative and resourcefulness have been integral to the successful completion of many major projects and strategic planning efforts during his time with the Town of Mammoth Lakes. Many of these achievements relied on building strong relationships and partnerships with the community, with Town Commissions, especially the Planning Commission, and the Town Council.
Just a few highlights, among the long list of his achievements:
•Development of an inclusive, community-based, process that led to the adoption of the 2007 General Plan •Adoption of the 2009 Housing Element
•Adoption of the Trail System Master Plan, and Parks and Recreation Master Plan
•Development of the Draft Mobility Plan
•Approval of the Destination Resort Community and Economic Development Strategy (DRCEDS)
•Completion of Neighborhood District Planning for key areas of town including Main Street, Old Mammoth Road, the North Village and Sierra Valley.
•Initiation and execution of the highly successful TOT enforcement program.
•Approval of major development projects such as Old Mammoth Place/Clearwater, Snowcreek VIII, Mammoth Crossing, Mammoth Hillside, Mammoth View, and Vista Point.
Wardlaw attributes these accomplishments to the hard work of his dedicated staff in the Community Development Department. He notes that this motivated team was always willing to take on any assignment or challenge to provide the highest level of service to the community.
There are no immediate plans by The Town of Mammoth Lakes to advertise or fill the position.