The Citizens' Budget Committee and others in Mammoth Lakes have talked about the need to restructure Town government. With a string of funding cuts, things can't go on as they have.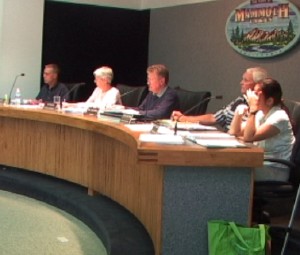 Tonight, the Town Council will once more talk about the new fiscal year budget and the monthly economic forecast. The Citizens' Budget Committee has laid out seven recommendations for the Town Council. The Committee suggests the Town Council acknowledge that the Town has been hit with cyclical and structural deficits. The Committee wants the Town to face certain possibilities like a bad snow year, retirement and staff turnover, the impact of the state fiscal crisis and more.
The Citizens group recommends that the Council take a hard look at numbers of employees in various departments. They pose the questions – Can the Town continue to fund 6 employees in the Finance Department? Can the Town continue to fund a Town Manager and Assistant Town Manager? Can the Town continue to fund a police force for 30,000 people? Can the town continued to fund the current level of tourism staff and a community relations manager?
Some serious questions for Mammoth officials as revenues continue to plummet.