The Mammoth Unified School District Board of Directors allowed the community to have their say on Monday night on closure of the Mammoth Olympic Academy for Excellence Charter School, but it was clear that the Board's minds were already made up on how they would vote.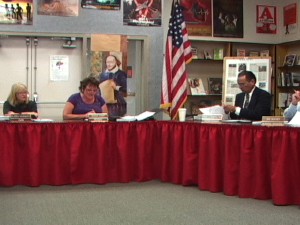 In the past few weeks, Mammoth Mountain CEO Rusty Gregory, as well as other long-time Mammoth local such as Dan Dawson and Tom Cage, brought a proposal to the school district: get all the high school students under one roof again by closing the Charter School. They feel that this will combine much needed resources to make the school a draw to the area rather than a deterrent.
"Our schools should match our mountains and enrich our lives," Gregory said on Monday.
Several parents of Charter School kids voiced their opinions that while they were excited by the change they also felt a bit deflated knowing that the Charter School, a project many of them had worked so hard on for so long, was going to be dissolved so quickly.
President of the Board Shana Stapp explained that they needed to be 150 percent supportive of the new direction the school is heading, which is why they needed to completely dissolve the Charter School. It was also one of the requirements necessary to obtain the $250,000 annually that Gregory was dangling in front of their faces.
Gregory explained that he had written two formal letters of intent, which he had given to MUSD Superintendent Frank Romero. The first states the intent that he and his wife Bonnie would give $250,000 for the first year, and the second letter states his intent as MMSA CEO to provide the $250,000 in the following years.
Administrator of the Charter School, Jim Barnes, who had been on vacation while these decisions were being discussed and came home to find his job had been dissolved, attended Monday night's meeting as well. He claimed he was full of bittersweet emotions.
"Two hundred and fifty thousand dollars is pretty sweet," Barnes said, "but I feel a little bitter because so much work went into the Charter School."
Overall, however, he believed that additional resources would be a win-win for everyone. The Board approved the resolution to dissolve the Charter School unanimously and the movement of all students back under the Mammoth High School roof will begin immediately.