With the sad news that Mammoth Mountain laid off more than 100 workers this week, we talked to Mammoth Chamber of Commerce President and local financial advisor Erick Wasserman. He agreed with the Ski Area that things are not good and unemployment is rising rapidly in Mammoth.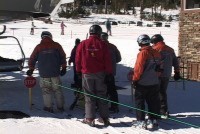 Wasserman said the Chamber is pulling together a community indictor report. "We're polling our 200 members," he said, with the goal to produce a quarterly report on the measurements of revenue and earnings.
From his own financial experience, Wasserman sees the national problems ongoing with money to go to programs. He believes the results will not show up for 6 to 9 months. "We need to see banks lending to unclog the economic wheels." Wasserman said it's just going to take time.
The Chamber President sees us in the "belly of the recession" between now and the end of June. He believes we may see light at the end of the tunnel by next Fall. The one thing Wasserman said he believes will help the community – shopping locally. "We need to do our best to spend money in our local community."