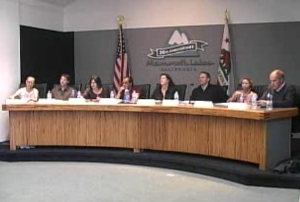 Mammoth Lakes Lions Club and Cerro Coso College Host Mammoth Lakes Town Council Candidates Forum May 6th 
April 22, 2014. Mammoth Lakes Lions Club and Cerro Coso College will host a Mammoth Lakes Town Council Candidates Forum on Tuesday, May 6th from 7:00 – 9:00 pm in the lobby of Cerro Coso College. Every registered voter in Mammoth Lakes is encouraged to attend and hear what the candidates have to say before the election on June 3, 2014. The three new Town Council members elected this June will be in office for the next four years.
"We are excited to be part of the election process in providing a public forum for candidates to provide their position about important issues facing the community," stated Lions Club President Peter Bernasconi. "Lions Club is known for its community involvement and volunteer services and this is one additional way we can be of service." In addition to co-hosting the event and providing coffee, the Lions Club is collecting used glasses that will be refurbished and used in other countries to improve vision of those in need in memory of former member Suzanne Stokes, who was an excellent example of service.
"Cerro Coso is pleased to co-host this event with Lions Club," commented Deanna Ing Campbell, Director – Eastern Sierra College Center/Cerro Coso Community College. "Providing a well-rounded education for our students includes providing the opportunity to become involved not only with the local community, but the civic process."
The format of the Candidates Forum is such that anyone interested in asking a specific question is encouraged to send it to the evening's moderator, Juliana Olinka at [email protected] no later than Sunday, April 27th. Questions may also be submitted via the event on Facebook. The questions will be collated and independently reviewed by local press and asked of the candidates that evening. If there is sufficient time, questions will also be taken from the floor.