What seemed inevitable became reality Wednesday: Mammoth High School has cancelled its entire varsity football schedule for this season.
The Huskies plan to play their junior varsity schedule, and first-year varsity coach James Gray said Mammoth will field a varsity team in 2010.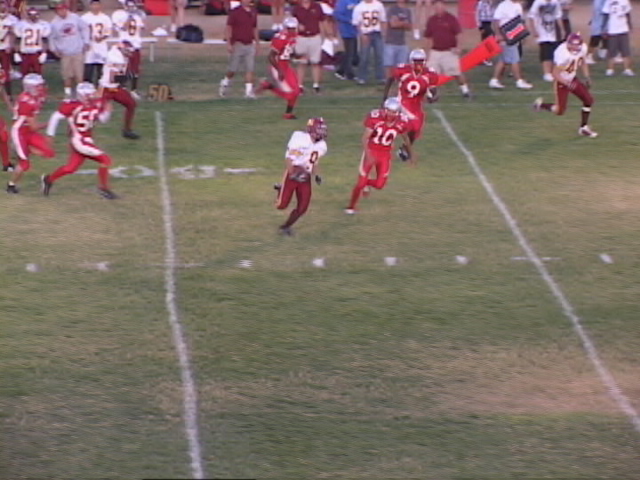 Three weeks ago, Mammoth cancelled its first two games, but many felt it was only a matter of time before the rest of the varsity season was scrapped.
Mammoth High issued a press release Thursday from principal Michael Agnitch on the situation:
"It is with great sadness that the administrative and coaching staff at Mammoth High School must announce that Mammoth will not field a varsity football team for the 2009 season. This comes after coaches, parents, teachers and concerned community members have explored numerous options to increase student participation at the varsity level. We intend to play our JV season as scheduled."
Gray did not want to comment further on the record on most aspects of the varsity situation, referring Sierra Wave to the press release.
The Huskies will travel by vans to Edwards Air Force Base on Friday to play the scheduled JV game with the Scorpions, Gray said.
Gray did note that Mammoth had five seniors ready to play varsity football, including four returning Huskies in Dalton Morley, Zach Harris, Scott Somers and Jose Cortez, who last season tied the national high school record for kickoff returnsfor touchdowns with seven.
The 2008 season was the last for legendary coach Tom Gault, who had been the MHS varsity head coach for 25 years. While Gault was also a teacher at Mammoth High, Gray is an off-campus coach, usually a tougher task for coaches.
Gray said three weeks ago of 31 possible varsity players, 13 were academically ineligible, dating back to last school year. One of those student-athletes was practicing, and another senior transfer was also ready to play. But with only five other juniors, four of whom have never played football, Gray said the numbers were just not there for a varsity team.
The junior varsity squad will have about 25 players, including those juniors (all juniors and seniors normally play varsity ball). The Huskie JV is scheduled to playa scrimmage Sept. 11 at Bishop at 4 p.m. Gray said he was not sure if California City would play just a JV game, Kern Valley would probably not and the Bishop JV is still scheduled to play at Mammoth on Oct. 2, perhaps at 7 p.m.
After a bye on Oct. 9, the Mammoth JV football team is scheduled to start Desert Mountain League play at Gault/McClure Stadium on Oct. 16, hosting Mojave.