As more businesses shut their doors in Mammoth Lakes, Restaurant LuLu and Volcano Sports just last week, the Chamber of Commerce continues to hold meetings to try to help businesses work through these tough economic times. At the most recent meeting, Howard Pickett, Mammoth Mountains Chief Marketing Officer, spoke to the group.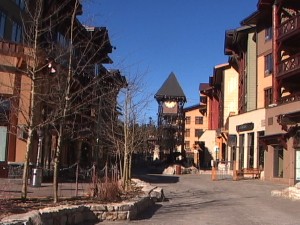 Picketts presence had been requested at the previous meeting after the group of business owners had decided they would like to be able to ride on the coattails of Mammoth Mountains Spring Fest event. The goal was to try and use programs like Spring Fest that are already in place to make a difference in business in Mammoth between now and the Fourth of July.
Well all be more successful if we are all consistent with our messages, Pickett agreed, as he explained the message of Spring Fest, which is to keep Southern California visitors focused on Mammoth even though it is 90 degrees down there and they all want to go to the beach.
Look at your marketing dollars closely and if you can, put those dollars into online advertising, he stated, and then explained that the Mountain had done this in order to be able to track who was seeing their ads more closely.
On a positive note, Pickett announced that the sale of MVP passes had exceeded the Mountains expectations, which was a good indicator for next season. By letting new people in to the MVP program and using two new databases from Ski Magazine and Sammy Boy Entertainment, their pass sales went up by 30 percent.
Pickett explained that the Mountain hoped that opening the MVP pass back up to a limited number of the general public would start to get rid of the idea that Mammoth is too expensive.
The Towns Tourism and Recreation Director Danna Stroud agreed. The days of I can charge whatever I want are gone, Stroud said.
Many of the group wanted to reinstate old ideas that used to work. Things like the Oktoberfest and bigger concerts, which seemed to bring in large crowds in the past but had dwindled over the years. Many blamed the shrinking crowds at such events on the Towns permitting process, but Town Councilman Neil McCarroll had a different take.
A lot of locals were fronting the money for these events when they were going really well, McCarroll said, adding that locals now should not just take the easy way out of blaming the Town, but instead should really take a hard look at events that used to work and why.
The group will continue to work on marketing ideas to bring more people to Mammoth between now and the Fourth of July, and again between the Fourth and Labor Day.