"Business is bad, now what can we do about it," was the riddle that a roomful of local Mammoth business owners tried to solve on Thursday night. The Mammoth Chamber of Commerce brought the group together and tried to come up with some solid solutions on how to turn business around in Mammoth.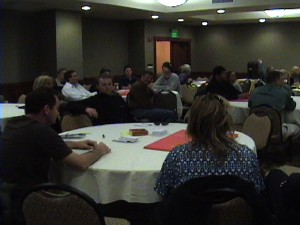 In a town that is admittedly "full of non-conformist people who pride themselves on their independence," as moderator Jack Copeland stated, it isn't often that you get business owners coming to the table to work together. In fact, it takes an economic recession, but there they were, 40-50 business owners sitting around talking about how they could work together to improve business, even just a little bit, for everyone.
Ideas ran the gamut from putting a page of Mammoth coupons in the LA Times to training the frontline employees to give guests a better experience. Councilman Skip Harvey also pointed out that once the town gets people to come to Mammoth, they need to keep them here, which means old, dilapidated buildings needed to be spruced up so people can see the beauty of Mammoth on its street fronts.
What the group latched on to most was the short-term idea of riding Mammoth Mountain's coattails during their Spring Fest marketing plug.
"We need to recapture the spring skiing market. It's ours," stated Rhonda Duggan, who works for MMSA and sits on the Town's Planning Commission. She went on to explain that it is the purpose of Spring Fest to do just that. Duggan then committed to talking with her appropriate co-workers at the Mountain to get the right people in touch with one another, and allow local businesses to get into the Spring Fest mix.
In the long term, the group discussed the need to bolster the local population so that the town is not always relying on the same people to spend money. In order to do this, the town needs to become more sustainable.
Ideas for future sustainability included using Mammoth's Cerro Coso Community College to a fuller potential, possibly by turning it into a food and beverage college. That way students who studied in Mammoth would be ready to work in many of its markets.