How many of us can honestly say we have read a local government budget and really understood it? Likely a small handful.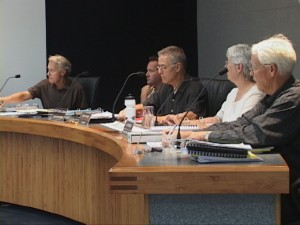 Talk about trying to read Chinese! In the case of Mammoth Lakes, the muddled budget drove some people to action – from the Town Council to the citizenry.
For one, new Town Councilman Rick Wood pointed to the money side of the budget. On Monday, the Council gave staff a single direction, said Wood – to come back with an austerity budget the same as last year. That means $1.2 million less than the proposed budget for the new fiscal year. Wood called this directive "momentum for an appropriate budget."
What cuts will the Town Manager suggest? That's the hard part, Wood said. He said Mammoth may have to get the work done with fewer people. Officials now say that employee unions may have to help.
Then there's the format of Mammoth's budget. Many who have tried to read it say they can't. Deb Pierrel, Mammoth business owner, said she found the budget mostly unreadable. She wrote a letter to the Town Council and suggested a budget format and process overhaul. When nothing much happened, Pierrel said she decided to bite the bullet. She went to budget meetings and then decided to make the Town an offer they couldn't refuse.
For $1 a month, Pierrel and Joyce Turner will do the research, get the public input and make a final recommendation to the Council on how to make the budget understandable to the public and effective in Council decision making. The Council agreed to the plan. Pierrel plans to wrap it up by the end of December for use next budget year.