More bad money news from the Town of Mammoth Lakes. The Town has released a preliminary budget report for the fiscal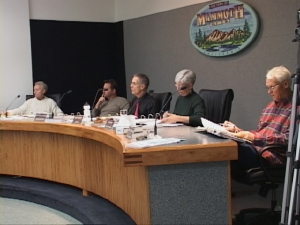 year that starts July 1st. According to officials, next year's bottom line is nearly $2.5 million worse off than the current year. Officials say the cause comes from a "continued slowdown in the economy, which compressed the Town's revenue base, coupled with inflationary increases in the Town's costs, mainly related to personnel."
Interim Town Manager Marianna Marysheva-Martinez said that the $2.5 million shortfall comes from a decrease in revenue of $1.8 million and an expenditure increase of $.7 million. Half of that pays for compensation and benefit increases for next fiscal year and half for the annual payout of past amounts due for Workers Compensation and General Liability. The revenue drop comes from a reduction in TOT and property tax revenue, restrictions on the Utility Users Tax and some other losses.
The budget report includes the suggestion of deleting the position of Administrative Services Director and adding a Finance Analyst/ TOT compliance specialist and a Payroll/ Administrative Support position. Staff asks that recruitment for these "critical positions" begin immediately.
Payments on the Town's $40 million debt have not been included into the baseline budget. The report says "Since it is impossible to predict at this early stage what the settlement will contain, its impact on the Town's annual budget is simply unknown."
The report recommends that the Town Council adopt a set of budget principles. They include budget reductions applied fairly across the board; resolution of financial issues that includes employees, residents and businesses; increase of REU to 25% of the Town budget.
The Town Council will discuss the budget report at their May 18 meeting, which will lay the foundation for the special budget session scheduled on May 25 from 3pm to 4:30 pm.