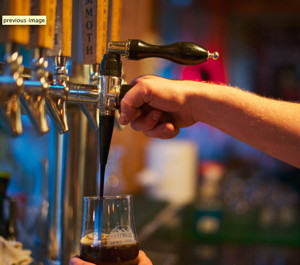 Mammoth Brewing Company Brings Home the Gold (press release)
Double Nut Brown wins the Brown Porter Category at 2014 Great American Beer Festival
Mammoth Lakes, Calif. (October 21, 2014) — "A world-class beer that accurately exemplifies the specified style, displaying the proper balance of taste, aroma and appearance." That's the definition of a gold medal at the Great American Beer Festival (GABF), but to Mammoth Brewing Company (MBC) the recent gold medal win in the Brown Porter Category for its Double Nut Brown means so much more.
"It really puts us on the map like we never were before," said MBC co-owner Sean Turner.
Gold medals aren't anything new for DNB. It also won World Beer Cup Gold in 2012.
"While the GABF is America-only, it's been around longer and is more prestigious," Turner said. "So the gold at the GABF really solidifies our Double Nut Brown as the best brown porter in the world."
According to its website, "The Great American Beer Festival invites industry professionals from around the world to sit together in small groups and, without knowing the brand name, taste beers in each specified style category. The ultimate goal of the Great American Beer Festival Judge Panel is to identify the three beers that best represent each beer-style category asdescribed and adopted by the Great American Beer Festival."
The Professional Judge Panel awards gold, silver or bronze medals that are recognized around the world as symbols of brewing excellence, according to the site. These awards are among the most coveted in the industry and heralded by the winning brewers in their national advertising.
It's been a big year for MBC. The Company moved to a larger, more prominent tasting room in Mammoth Lakes earlier this year and added a beer garden to the property this summer. The beer garden will remain open throughout the winter.
For more about MBC visit mammothbrewingco.com.