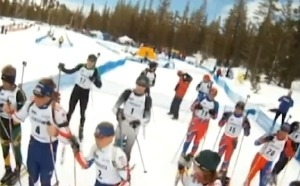 201

3

 Mammoth Winter Biathlon
March 2

2

-2

4

th
• • • • • • • • • • • • • •
Good Morning Everyone,
New snow next week? We'll see……with one week left before the Mammoth Winter Biathlon you should be thinking about getting those racing skis waxed and tuned, cleaning your rifles, and getting psyched for this exciting event.
Registration closes at midnight Tuesday. Register at http://www.active.com/winter-sports/mammoth-lakes-ca/mammoth-winter-biathlon-2013 .
You can register for shooting clinics at the same link. The clinics are very worthwhile and will increase your race fun. No reason to ski penalty laps if you don't have to.
If you can't make the clinics and have never shot before, don't worry. We will have firearms experts for each shooting lane. They will help you shoot and keep you, our junior racers, and spectators safe. Don't let lack of prior shooting experience keep you from enjoying your first biathlon.
We still need volunteers to make the biathlon happen. Please see http://www.mammothbiathlon.org/volunteer/ .
Steven Gaskill: … races are best when they are not too important, when we learn to relax and when we focus on what we can do, not what we can't.
Ski Exuberantly,
Hank and Jim
Mammoth Lakes, California
Elevation 8083 feet in John Muir's Range of Light