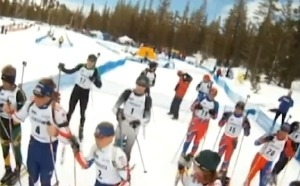 Five days until the Sixth Annual Mammoth Winter Biathlon!
You don't have to have your own rifle to participate. We have community rifles and we supply the bullets. Community rifles are kept at the shooting range. If you use a community rifle, you do not ski with a rifle. We have both junior- and adult-size community rifles. If you have your own rifle, you may ski with it or you may leave it in special racks at the shooting range.
Racers and clinic participants must register by midnight Tuesday. Don't miss our–register NOW. http://www.active.com/winter-sports/mammoth-lakes-ca/mammoth-winter-biathlon-2013
Weather is shaping up just dandy. Looks like a snow refresh Tuesday and Wednesday followed by bluebird skies Friday, Saturday, and Sunday. Temperatures in town this week have been mild, but snow on the Mountain is skiing great.
This year, Eastern Sierra Armory is donating two rifles to be raffled off to biathlon competitors. For juniors fifteen and under, the rifle will be a Savage MkII FVT. For competitors sixteen and up, it will be a stainless steel Savage Mk11. You can't win if you don't race. Register NOW. Thank you Eastern Sierra Armory.
Proceeds from the Mammoth Winter Biathlon support our junior cross-country racers. They're an enthusiastic bunch. They train hard, they have fun, and they get results. This year Amanda Kirkeby placed sixth out of fifty-six girls in the California/Nevada State Championships. Based on her season-long race results, Amanda was selected to compete at the 2013 Junior Nationals in Fairbanks, Alaska. In the seventy-six deep middle-school boys race, four Mammoth racers were in the top ten: Connor Kusumoto first, Trace Calvin fourth, Cameron Small fifth, and David Dalicandro ninth. All our other racers skied well, and we are proud of each and everyone of them. Well done all–you are why we have the Mammoth Biathlon.
Mammoth Biathlon. Racer, volunteer, parent, spectator–be part of this great happening.
Martina Navratilova: With motivation, you can be involved or committed. Just like with ham and eggs: The chicken was involved, but the pig was committed. You have to be like the pig.
Let's be pigs everybody.
Ski Fast, Shoot Clean,
Hank
Mammoth Lakes, California
Elevation 8083 feet in John Muir's Range of Light