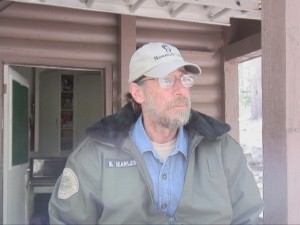 Last week, some Mammoth Lakes children found a very large bear, lying dead in the Rusty Lane area near the golf course.  Wildlife Specialist Steve
Searles has now asked the public to help him solve the riddle of the big, gentle bear's death.
Unlike most Mammoth bears, the one killed did not have a particular name.  Searles said locals had their own nicknames for the 500-pound male that had a blonde body with dark head and front feet.  As Searles put it, "It was a blessing to have this bear in our community.  He was a great member of our town and helped many people experience a bear.  He did more good than anything else."
The police chief and lieutenant had joined Searles in the careful removal of the bear's body with a tow truck.  Now, they are at work to figure out how the big animal died.  Searles said that from his experience, the bear did not appear to have been hit by a car and did not die from natural causes.  Asked if someone shot the bear and if, as sources had said, the bear had a small hole in its abdomen, Searles said that it is accurate that the bear had a small hole in the abdominal area the size of a number two pencil.
Searles pointed to the fact that it is bear season.  He said the bear could have legally been shot out of the town limits but made it back to familiar territory. The wildlife man just doesn't know.  That's why he has asked for help from citizens.  Searles has asked that anyone with information on how this bear died to call him, anonymously if preferred.  That number is 760-937-BEAR.