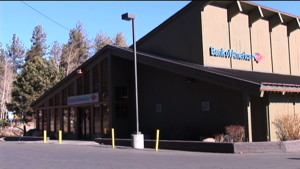 After many years of service to the Mammoth Lakes community, the Bank of America will shut its doors on Friday.
That announcement came out after the first of the year. Colleen Haggerty of Bank of America Media Relations had said that after careful consideration, bank officials decided to close the long-time branch. She said such decisions are "driven primarily by a decline in transactions as customers increasingly rely on other channels such as mobile and online banking." The decision means a loss of local jobs and a loss of services.
Haggerty pointed to the use of technology and said that Bank of America customers everywhere are using their mobile phones to log into their accounts 120 million times per month. She said they deposit 100,000 checks via Mobile Check Deposit daily and transfer $2 billion per week. They pay bills through mobile phones, and B of A also has a mobile app frequently used. All of this means the brick and mortar bank has fewer customers.
Haggerty explained that the lease at the Mammoth Bank of America expires this month which offered a chance to "assess the longevity of the banking center and a timeline for closure." Haggerty said Bank of America will remain an ATM in Mammoth. She said customers can still access all deposits and account services online, by mobile phone or at other banking center locations like Bishop. It was expected that customers would also seek out other banking institutions for local, walk-in service in Mammoth Lakes.