51 year old Ronald Watson of Onyx, California, the man accused of lighting a string of fires in Mammoth in June of 2007, continues slowly through the Mono County Court system.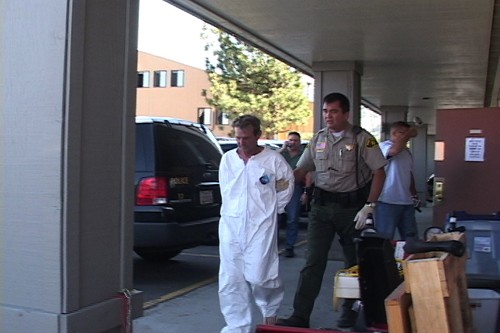 After allegedly making threats (that included telling people to prepare to die) at the Forest Service Visitor Center, police report that they followed a pattern of suspicious fires from the Visitor Center headed toward the Mammoth Trailer Park. There, police report that they saw the suspect bashing in a cabin with a shovel. Police alleged that Watson used gasoline to set fires.
Watson has been charged with five counts of alleged arson on forest land, one count of attempted arson of a tent, and misdemeanor vandalism for the cabin at the RV Park.
Watson remains in custody. After undergoing a psychological evaluation, Watson was found competent to stand trial in August. After several court appearances, the case has been continued. During the most recent hearing, Deputy Mono District Attorney Kyle Graham reports that the court granted another continuance so that the defense could conduct further investigations.