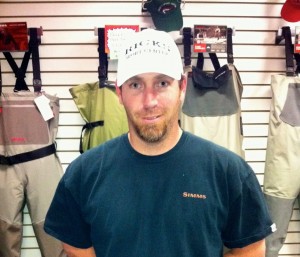 The Mammoth Lakes Chamber of Commerce is at it again: prowling the stores, restaurants, busses, and streets of Mammoth looking for great examples of local hospitality.
This week's recognition goes to Bruce Wilson of Rick's Sporting Goods on Main Street. Recently, a friend went over to Rick's Sports to pick up a new fly rod he had ordered only to find it had accidentally been sold to another customer.  Our Friend had been waiting patiently for the rod to arrive and he was upset.  However, salesman Bruce Wilson quickly solved the problem.  He apologized profusely and special ordered another rod, which arrived 2 days later.  When our friend picked up the rod, he also bought a new reel. Bruce upgraded him to a much better reel and gave him a huge discount.  Our friend left Rick's very pleased at the way the situation was resolved and eagerly recommended Bruce for the Mammoth Lakes Chamber of Commerce Ambassador Award for going beyond and providing exceptional service – and changing a bad experience into a very good one.
This is a great example of service recovery and the principal of "plus one". If you are going to fix a service problem go a little bit better than the situation demands and you will create a customer for life.
Brought to you by the Mammoth Lakes Chamber of Commerce