The Mammoth Lakes Town Council voted against a long term financing package for the airport terminal that came before them on November 18. Instead they chose to allow the General Fund to continue to carry the debt as it has since the end of June even though this will cause cash flow issues.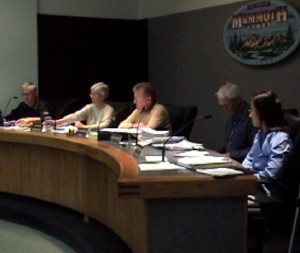 Brad Koehn, the Town's Finance Director, had brought the $2.3 million financing package forward even though it was tagged with an 8.125 percent interest rate.
"Hopefully it won't be long-term if we get 10,000 enplanements at the airport," Koehn said.
He was referring to the process whereby if the Mammoth Yosemite Airport reaches 10,000 enplanements in a calendar year, the Federal Aviation Administration (FAA) gives the Town $1 million to pay for capital expenses. Last year, with one flight per day from the airport, 5,600 enplanements were reached. This year there will be four flights per day so that number is expected to quadruple.
"The $1 million from enplanements could pay extra principal on the financing," Koehn said. His hope was that the loan would be paid off in just a few years rather than the 30 years the agreement allowed. However, he felt that having the loan in place was a good back up plan in case the enplanements were not reached. The 10,000 enplanements have to be reached every year in order for the Town to receive an annual payment of $1 million, and there is a delay of about one year before the Town actually sees the money.
The high interest rate and the fact that the Town's General Fund has already been carrying the airport terminal debt since June comes from the Town's bad credit rating, which is directly related to the Hot Creek litigation. The Town lost the initial litigation suit and is currently appealing the decision. However, with that appeal hanging fire, lenders have been difficult to find.
Last June the short-term note that was carrying the Town's debt on the terminal expired and had to be paid, and so the General Fund was used to fill the gap. According to Koehn, this is the first time since then that a lender has been willing to offer the Town a finance package.
At this time the Town's General Fund has already loaned the airport $3.2 million, plus it has given the airport another $3 million that is not expected to be paid back unless the litigation appeal is approved. With the additional $2.3 million the General Fund is now carrying, the Town has spent well over $8 million to finance the airport.