0 0 0
Prior to the regular Mammoth Town Council meeting on Feb. 17, the Council met with the Airport Commission and discussed everything from the summer air service expected to kick off April 11 to the 10,000 enplanements necessary for the Town to be able to put in for its $1 million incentive.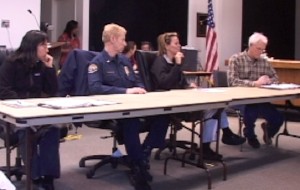 According to the Chair of Airport Commission, Pam Murphy, summer air service will run one flight per day to and from Los Angeles. The service, at this time, is expected to run from April 11 (starting directly after winter service ends) through the end of September. It will then shut down for a few weeks and re-open right before Thanksgiving. Council asked Murphy to talk with Horizon about not shutting the service down at all and to truly make it year-round.
Murphy explained that the reason they had planned to shut down for several weeks was to help the Town afford its half of the subsidy that is split with Mammoth Mountain Ski Area.
"But if you think we should pursue keeping it open we can do that," Murphy stated.
As for the 10,000 enplanements, Murphy and Assistant Airport Manager Brian Picken assured the Council it was not if the Town would reach the magic number, but when. The actual date in this calendar year that the 10,000 enplanements are reached will determine when the $1 million check is received since3 it takes approximately one year from the time the enplanements are reached for the money to actually arrive.
Later, during the regular Council meeting, Town Attorney Peter Tracy updated the Council and the public on the Hot Creek Litigation appeal. According to Tracy the appeal is still pending but the briefing has been completed. A three-judge panel will now be selected to evaluate the briefing. Tracy added that both the League of California Cities and the State Association of Counties had filed support briefs on the Town's behalf. Currently, the Town was just waiting to see if these briefs would be accepted by the Court of Appeals.