For many years, Mammoth has suffered air quality issues. Through regulation of wood stoves and a public information program, officials have managed to keep woodsmoke pollution below state standards. This is the time of year that challenges those standards, so officials have made another plea.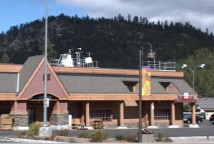 Stuart Brown, Mammoth Community Relations Manager said that when the Town experiences periods of clear, cold and calm weather with minimal breeze, the air quality deteriorates. Wood smoke from fireplaces and stoves can not dissipate and sometimes builds up to unhealthy levels that could have serious health consequences.
On the Great Basin Air Pollution Control District website, air monitors show peak pollution times in the early morning and evening. The 24 hour average still sits below state standards.
Town officials do ask that you do this:
Only burn clean and hot fires, check your chimney periodically for emissions. Call 934-1010 for any wood burning restrictions and abide by the No Wood Burning Days restrictions.