Press release
The all-star cast for the upcoming production of 'Mamma Mia!' is hard at work rehearsing and preparing to fully entertain audiences as they lead them through the intriguing tale of a young girl trying to find out who her Dad is so he can give her away on her up-coming wedding day. This lighthearted, heartwarming and sometimes hilarious story all takes place on the fictional Greek island of Kalokairi.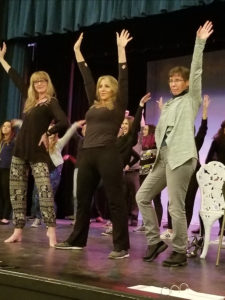 Your friends and neighbors in the cast are working under the inspired vision and direction of veteran Director Martha Reynolds and Music Director Ryan Mills. A large chorus ensemble plays a key role in creating the magical mood and atmosphere of Donna's Taverna and Greek island life. Leading the cast are Marianne Schat as Donna Sheridan and Abby Stoiber as her daughter Sophie. When Sophie's three potential Dads, Donna's best girlfriends from days-gone-by, and Sophie's bridesmaids all show up on the island for the wedding, they join Donna and Sophie and her fiancée Sky and well…… shall we say, the adventure begins.
Many people are familiar with the music of Mamma Mia! All of the songs were written by Benny Andersson and Bjorn Ulvaeus of the Swedish pop/dance group ABBA. Members of the audience will undoubtedly find themselves singing along, at least in their heads, to such favorites as Dancing Queen, Super Trouper, Thank You for the Music and of course Mamma Mia!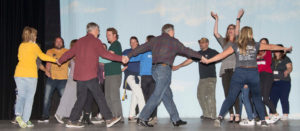 Tickets are now on sale for 'Mamma Mia!', which will run for three weekends starting April 26 through May 11, and will be performed at the Bishop High School Dorothy Joseph Theater. Brown Paper Tickets is handling ticket sales. They can be reached at https://www.brownpapertickets.com/event/4093427 or 24/7 over the phone at 1-800-838-3006. Tickets can also be purchased locally in Bishop at Inyo Council for the Arts, 137 S. Main Street, on Wednesdays and Fridays from 11-1.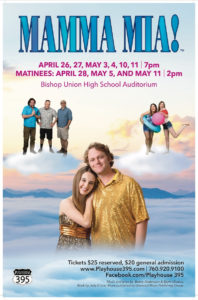 All of the cast and crew, members of the band, and the directors and producers of 'Mamma Mia!' are volunteers who are putting in an incredible number of hours preparing to entertain their audiences. The producers of the show are looking for more volunteers for the three weekends of performances. Volunteers are needed to help with several things including ushering and selling refreshments during intermission. Come be a part of the fun! If you are interested in volunteering, please call Nancy at 760-872-2852 or 760-937-8081.
For any questions please call Playhouse 395 at 760-920-9100 or visit the Playhouse website at www.playhouse395.com. You can also follow Playhouse on Facebook and Instagram to see pictures of the cast rehearsing and to learn a little bit more about each of these very talented community members.