Press release
Mammoth Lakes, CA – On Wednesday, February 3, 2016 in Suite Z (above Starbucks) at 4:30 p.m., the Mammoth Lakes Town Council will be conducting a special workshop regarding Mammoth Lakes Yosemite Airport.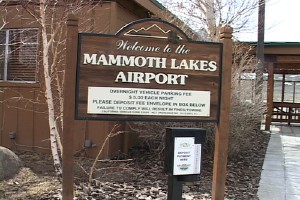 The workshop will cover a broad range of information related to the Airport, including: a brief history of the airport; a summary of the existing facilities and current operations and services at the airport; discussion of the Airport Capital Improvement Program (ACIP); and next steps for the proposed terminal and aircraft apron project, including preliminary design and environmental documentation, preliminary budget estimates, tentative schedule, and scope of work for the project.
The Town Council will not be taking any action at this workshop, but will be considering direction to staff with an agenda item in the regular Town Council meeting that begins at 6:00 PM.
This workshop provides the opportunity for interested community members to learn more about the process the Town is undertaking to construct a new airport terminal and aircraft apron in the next several years.
The workshop will be held in the Town Council Chambers (Suite Z) in the Minaret Village Mall located at 437 Old Mammoth Road. This meeting can also be viewed online, live or anytime, on the Town's website. Please visit: http://mammothlakes.granicus.com/ViewPublisher.php?view_id=4.
For additional information regarding the workshop or the airport terminal project, please contact Public Works Director, Grady Dutton at (760) 934-8989 ext. 257 or email: [email protected]