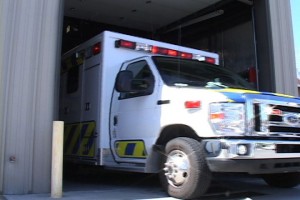 By Charles James
Have a little time on your hands and are willing to learn something new that might make a real difference in someone's life? Even saving one. Well, you can! The life you might save could be the life of a neighbor, a friend, a mother, father, grandparent, brother, sister or a child. Become an Emergency Medical Technician for your local volunteer fire department! Volunteers of all ages are welcome, including those who are retired.
There is an Emergency Medical Technician course being provided by Cerro Coso Community College, hosted by the Big Pine Volunteer Fire Department beginning in January of 2020. This course will teach you how to save lives. The volunteer fire departments in Inyo County desperately need volunteer EMTs, especially those who have ability (or permission of their employer) during daytime hours.
Marilyn Mann of Big Pine told a story of how important EMTs was in her life: "Last
Thanksgiving, my partner Mike and I were at my sisters for dinner and as we went to leave, I noticed that Mike had turned ashen – the color had drained from his face and he started to sway. I grabbed him and my sister got a chair under him as I eased him down. He was unresponsive and in and out of consciousness.
I was scared – my mind flashed back to 24 years earlier when my husband had stopped talking  and dropped to the floor and was unresponsive. I remembered calling 9-1-1 and waiting for the ambulance to come. He was still unconscious when they took him away. I remembered following the ambulance, crying and trying to tell myself it would be "okay." I also remembered holding him later at the hospital as he died.
Was this happening again? All of this flashed through my mind as I waited for the ambulance to come and the person that I love with all my heart remained unresponsive. Suddenly the ambulance arrived, and I looked up as the Chief, Damon Carrington came into the house with the rescue team. I remember Lloyd Wilson—who I have known since I was a kid—follow Damon in. I felt a tremendous sense of relief that help was there and that it was people that I knew and trusted would be taking Mike to the hospital. I also remember the sense of relief later at the hospital when Lloyd came out to let me know that Mike was doing better. Mike was released later that night and is completely fine – it was a fluke medical event.
I cannot tell you how much it meant to me to know that people in my community were there to help. They are not only my friends; they are my heroes. I hope my story will spark interest in the hearts of others to volunteer and learn how to be the hero to someone in the community where they live."
The EMT course will run from January 22, 2020 to May 15, 2020 (189 hours) at the Big Pine School located at 500 S. Main Street in Big Pine. You can register at the Bishop Campus at Cerro  Coso Community College, located at 4090 W. Line Street, Bishop on Wednesday, November 13 from 9:00 am –6:00 pm.
You can also register at the Big Pine Fire Department located at 181 N. Main Street in Big Pine on Thursday, November 21 at 5:00 pm.
Registration will also be available online at Cerro Coso Community College as well.
For more information or questions call Damon Carrington, BP Fire Chief, at (760) 937-4712 or call Cerro Coso College at (760) 872-1565. (Note that returning Cerro Coso students should call Sarah at (760) 872-1565 for current status.)
Scholarships are available on a first-come, first-served basis through Eastern Sierra Foundation.
Scholarship applications are due on Dec 12, 2019.