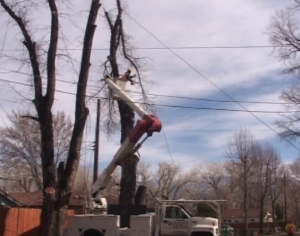 Serious drainage and sewer problems in the area of Elm St. and North Third in Bishop led to major street projects that required the removal of 19 big, old trees.
Elm St., beautifully tree-lined, saw the Joe Benigno Tree Service out of Carson City come in Wednesday to start the work to clear out the big trees. The contractor on the street job, Qualcon of Nevada, apparently brought in the tree cutters.
Bishop Public Works Director Dave Grah said that 19 trees have to come out to accommodate two lanes of traffic, parking and sidewalks. He said that during public meetings, citizens rejected the idea of what's called bold-outs to accommodate some trees.
Grah said, "It's sad for the trees to come down." But, he said that the area has a lot of drainage and sewer problems and the only way to deal with it was to re-build the street.
The contractor will provide three young trees for every one mature tree that comes down.