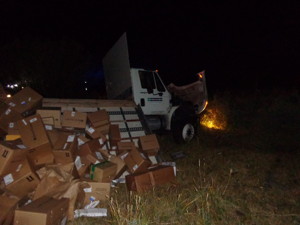 According to the California Highway Patrol Bridgeport Office, Monday at about 10pm the driver of a truck allowed his vehicle to veer off Highway 395 south of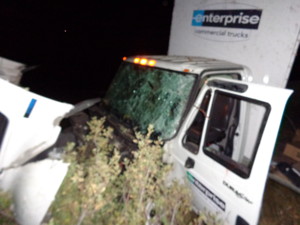 Rattlesnake Point.  The vehicle smashed into a fence.  The driver sustained major injuries and the truck was severely damaged.
A CHP press release says that Arthur Thomas Vaught, 70 of Reno, was at the wheel of a 2012 International box truck on Highway 395, driving at about 55 miles per hour.  The release says, "Fatigued, Mr. Vaught allowed the box truck to drift off of the roadway onto the dirt shoulder."  The CHP said the truck collided with a cattle fence and uneven ground.  The truck sustained major damage.  Officers said Highway 395 was not closed as a result of the collision.  However, on Tuesday, officers conducted intermittent traffic control in the area to help with clean-up efforts.
Mr. Vaught sustained major injuries including lacerations to his arms and face.  He also complained of severe back pain.  He was wearing a seat belt.  The man was taken by ground ambulance to Sonora Junction where he was transferred to air ambulance and flown to Renown Medical Center in Reno for treatment of his injuries.