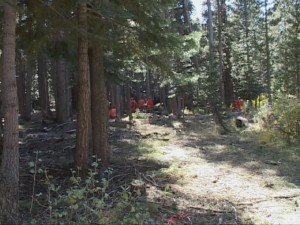 Right in the middle of Mammoth Lakes a mini-forest stands full of thick tree growth and brush – a fire danger time bomb. Mammoth Lakes Fire Department and the Town of Mammoth decided to take action.
The Shady Rest parcel amounts to about 25 acres of pine trees south of Center St. and east of Manzanita Dr. Fire Chief Brent Harper called it a serious fire threat. "They're reducing the amount of fuels, reducing the number of trees, picking up garbage and we're working with the property owners to get this area cleaned up."
Chief Harper said with the overgrowth, people go into Shady Rest and build campfires, party, drink, smoke. "They've even built temporary shelters. If this area caught fire," said the Chief, "it would be a big risk to the whole town."
Chief Harper said his department and the town have worked closely with the firm that represents the investors in the Shady Rest parcel and will split the cost of fuel reductions and clean-up because of the community impact.
Cal Fire and the Conservation Camp inmates are doing the work at the least expensive cost, according to Chief Harper. The Chief asks that everyone stay clear of the area since equipment is running and trees falling. Crews will work within 150 feet of the property boundaries this month with more work next spring.