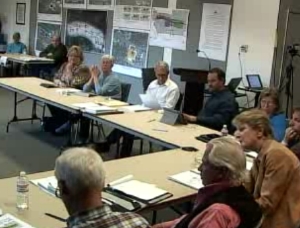 Over the years, detailed plans for a re-make of Mammoth's Main Street have evolved with the hope of creating a different image upon entering the town. Officials gave it another go recently and hired Winter and Company Urban Design and Planning Studio. Nore' Winter went through the current plans for Main Street which sound attractive but have no obvious method of funding.
Mr. Winter described an attractive project with a landscaped median down the middle of Main Street, on-street parking, a bike lane, sidewalks and landscaped strips, and outdoor venues for businesses, some of which would relocate right up front on the street. The total projected cost is just over $18 million. Mr. Winter did propose phases of development which would start with obtaining Caltrans rights of way, the landscaped median, new asphalt and traffic signals at a projected cost of $2.3 million. The pedestrian- bike zone and other development would come in around $5.2 million. Business re-development and utility relocation was listed at $2.7 million.
So, how to pay for all this? Mr. Winter suggested a bond issue, some grants, Development Impact Fees, funds from existing tax measures and the new Tourism Business Improvement District money. He added the possibility of an Infrastructure Finance District and Parking District. Later, Councilman Matthew Lehman said that bond issues and TBID funds are not really available for a Main Street make-over. Grants are very limited too.
No one could dispute Mr. Winter's assertion that the current Main Street is basically a thoroughfare that does not invite walking. He said parking is in front of buildings and you don't see businesses from Main Street. He said the goals of a make-over would be to "create a greater sense of identity." Winter said when people arrive in Mammoth "There is not a lot of there, there."
Winter said there are businesses who say they will never relocate their stores closer to Main Street, some say they will and others say they might. The recession and available financing is a big factor. Winter said that re-development opportunities are not that good due to just coming out of a recession, but he did say that residential sales in Mammoth are better and so is commercial occupancy in town.
Another issue is snow. He said that early on, a snow management district must be formed to haul the snow out of Main Street. The draft plan paints a picture of a far more attractive Main Street with more landscaping, more ways to park and walk around or bike around. Mr. Winter said zoning code changes could help encourage developers, and retail can be mixed with commercial.
For the next 30 days, the public is invited to comment on the Draft Main Street Plan, which is available on the Town website. Comment forms are also available on the site.