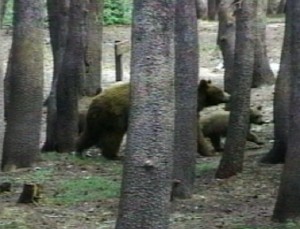 The film crews, directors and producers stationed in Mammoth Lakes to shoot three new Bear Whisperer shows for Animal Planet have been treated to what some call magical wildlife footage.
Steve Searles' work with bears in Mammoth Lakes attracted the film producers, LMNO, a couple of years ago. Their pilot show, "The Bear Whisperer" garnered a large audience. That success led to a deal to shoot and air three more shows.
Searles works with the crews and has shot some of his own video. Steve said amazingly every bear that appeared in the first show has returned to Mammoth this year. Crews are filming multiple bears within 50 feet of Steve's Mammoth home. The shots have been so incredible, he said, that the crews are way ahead of schedule.
Of course, the real lives of bears include their tragedies. Two bears were killed and this week a mother bear retrieved her cub from a roadway where it had been struck and killed. Searles said the crews are handling these situations "delicately."
Searles added that the new programs will reveal even more about the influence of the Native American community and philosophy on his life and his work with animals.
No air dates yet.