Press release
Mammoth Lakes, Calif. – Mammoth Lakes Repertory Theatre's annual, family-friendly and outrageously fun March Magic! returns to the Edison stage this year featuring the talented comedian and magician Dana Daniels along with his psychic parrot, Luigi (yes, a Psychic Parrot!). Dana Daniels has been named the Comedy Magician of the Year and two-time Stage Magician of the Year, both from the Academy of Magical Arts. DanaDaniels and Luigi will perform at the Edison Theatre on Friday, March 17, at7 p.m.; and two shows on Saturday, March 18, 4 p.m. and 7 p.m.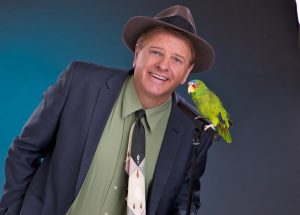 "Dana has been recognized by his peers as one of the best comedian magicians working today," said Mammoth Lakes Repertory Theatre's Artistic Director Shira Dubrovner. "We are thrilled to have him perform in Mammoth."
With Daniels as the comedian and Luigi as the straight bird, the duo never fails to fracture an audience with laughter. Daniels sets out to prove his little green friend is truly clairvoyant by performing incredible magic blended with rapid-fire clean comedy and audience participation.
Daniels' past television appearances include Stand up Live, Evening at the Improv, CBS Morning Show, The Golden Girls, NBC's Comedy Club, News Radio, Masters of Illusions, Lance Burton's Guerrilla Magic and the best selling clean comedy DVD series "Thou Shalt Laugh".
Dana has also opened for such stars as Ray Romano, Amy Grant, Vince Gill, Tony Orlando, Randy Travis, Gary Shandling and Charro.
It's Dana Daniels' unique twist on magic that separates him from other magicians, and separates Luigi from other poultry.
Purchase tickets online at www.MammothLakesRepertoryTheatre.org.
FACT SHEET:
What:   March Magic with Dana Daniels
When: Friday, March 17, at 7 p.m.; Saturday, March 18, 4 p.m. and 7 p.m.
Where: Edison Theatre, 100 College Parkway across from Cerro Coso College
Cost:      $15/$12 Seniors & Students. Tickets at the door are $18, no discounts.
Tickets: www.MammothLakesRepertoryTheatre.org.
###
The Mammoth Lakes Foundation offers free education (books and tuition) to any Mono County resident and/or high school graduate who pursues an AA degree at Cerro Coso Community College and provides year-round theatre programming at Edison Theatre. For more information or to make a tax-deductible donation, please contact the Foundation at (760) 934-3781 or visit MammothLakesFoundation.org. Our nonprofit work is only possible through your generosity.