Press release
Mammoth Lakes, Calif. – Mammoth Lakes Repertory Theatre invites the community to fall down the rabbit hole for an afternoon of curated tea, curious concoctions, and creative millinery for the 3rd annual Mad Hatter's Tea Fundraiser, sponsored by Kathleen Rudder, on Saturday, April 30, from 11 a.m. to 2 p.m. at Sierra Center.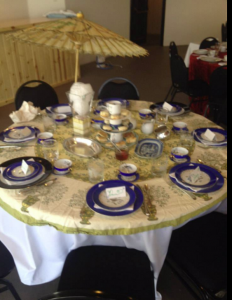 "We welcome everyone to join us for an afternoon where the silly and the sophisticated come together to support an important local cause," said Rudder. "Come in your best tea attire for all to admire."
The event features a silent auction with unique items, including various one-of-a-kind "Mad Hats" created by local artists; a light luncheon catered by Anything Goes Catering, including delicious scones, delightful finger sandwiches, and petit fours; musical entertainment by students from the Felici Trio; and—of course—flavorful teas.
"Bringing culture to Mammoth Lakes is not only near and dear to my heart, but it is important for our community," said Rudder. "We have so much fun with so much laughter, and everyone needs a good dose of that."
MLRT is still looking for Duchesses to host a table for the event. Each Duchess is responsible for dressing a table (themes are encouraged) and filling the table with 8 guests. Attendance for Duchesses is free.
Tickets are only $45 and all proceeds from the fundraiser benefit MLRT and its mission to bring performing arts to the Eastern Sierra. MLRT recently completed its seventh successful season that included Of Mice & Men, Church Basement Ladies, Blank, Boeing Boeing, Tahoe Adventure Film Festival, and Magic March.  MLRT is currently working on its upcoming season, which will include Romeo & Juliet, among many others.
To buy tickets for the Mad Hatter's Tea Fundraiser or to become a Duchess, call 760-934-6592.
###
The Mammoth Lakes Foundation offers free education (books and tuition) to any Mono County resident and/or high school graduate who pursues an AA degree at Cerro Coso Community College and provides year-round theatre programming at Edison Theatre. For more information or to make a tax-deductible donation, please contact the Foundation at (760) 934-3781 or visitMammothLakesFoundation.org. Our nonprofit work is only possible through your generosity.