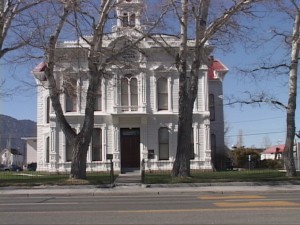 Mono County lost another employee termination case. Judge Stan Eller has issued a decision in the case of Dick Luman, former Road Department mechanic. Judge Eller ordered the County Personnel Appeals Board decision to uphold Luman's termination vacated. He ordered Mono County to reinstate Luman with all pay, benefits, seniority and more.
Judge Eller's order also provides Luman with a new penalty hearing that would result in something less than termination. Luman was originally accused by the County of being in a physical fight with his Road Department Supervisor. The Appeals Board found, instead, that he had made threatening statements to that man, Brett McCurry. They upheld his termination. Judge Eller did not.
The Judge's order says that Luman is due back pay from the time of his termination in December 2011 until his reinstatement. The order says if a penalty is imposed on Luman for his statements made to McCurry, the amount should be deducted from his back pay. Luman will also get interest on the money owed him at the "full legal rate." The Judge also ordered that the County remove all documentation relating to the disciplinary action of termination and "refrain from using this information in any way adverse to Luman in his future employment with Mono County."
The Judge's decision points out that Dick Luman had worked for Mono County for many years with no prior history of any discipline and was characterized as responsible, capable and trustworthy. He was promoted to the highest level in his job classification. The order says, "There is absolutely no history of violence in the workplace exhibited by" Mr. Luman.
The Judge finds that Luman's threatening statement was particular to an argument taking place with Mr. McCurry and was an isolated incident. The order also notes that Luman "got the worst of it as he suffered a cracked rib and a hernia requiring surgery."
Attorney Katie Bellomo, who represented Luman, had also alleged that two Personnel Appeals Board members were biased. She claimed that Ralph Obenberger was biased because his office had investigated the altercation involving Luman and that Ralph Goode was biased because someone close to him was being investigated by the Sheriff's Department. The Judge did not find that the hearing officers were biased. The Judge also found that the Appeals Board decision was not "arbitrary and capricious" just erroneous. So no attorneys fees were awarded.
The Judge's conclusion says, "The court determines that the Personnel Appeal Board's findings that Luman made a threat of violence and provided misleading statements is supported by the weight of the evidence. However," the decision says, "the most extreme form of penalty, termination of employment, was grossly excessive" in view of the law.