Luella went to be with the Angels on May 1, 2016. Luella was born on August 21,1936 to Fred Thompson and Nellie Kennedy Thompson in Sharp Nv.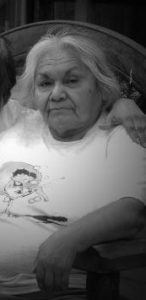 Luella spent her younger years prospecting with her Grandfather Robert Thompson, she had some very interesting stories from that period of her life.
She started school in Ely Nv living with her Grandmother Minnie Blackeye and with her aunt and uncle.
After she was diagnosed with tuberculosis she was sent to Weimar Sanatorium. After her recovery she was sent to Stewart Government school Carson Nv.While at Stewart she was reunited with her siblings.
She spent her summers in Fish Lake Valley, and Lake Tahoe. Upon her Gradutation from Stewart she Traveled back east for a while then resettling in Keough.
In the late 50's she met Billy Connor settling down, in June 1960 she gave birth to Billy Gene Connor Jr, then in April 1963 giving birth to Glory Dawn Connor. Resettling in Porterville California While living in Porterville Luella worked for Tulare County Lemon Ass. 38 years – she she also worked seasonal at Lindsey Olive,Tubs Cordish, and Central Valley Citrus.
Luella was proceeded in death by her mother Nellie Kennedy father Fred Thompson son Billy Gene Connor Jr, Her Brothers Clarence Thompson,Nelson Thompson, Cline Thompson, and Bernard Seepie.
Luella is survived by her Daughter Glory Dawn Connor and her partner Greg Casada, Brothers Fredrick Thompson, and Jean Thompson Sisters Darlene Thompson, Geraldine Seepie, Gerry Thompson Riley, Lorraine Thompson Whitzle, Grandsons Levi Cregar, and Jerry Cregar and wife Mary Ashley Cregar, and Granddaughter Tiphani Connor, and Seven Great-grand children.
Luella Loved sports spending many hours watching Little League at Hays Field in Porterville and watching Golf at home. Luella was also very proud of her Native heritage, The Timbisha Shoshone tribe has lost a wonderful soul.
Per Luella wishes no viewing or cry dance, there will be a grave side service at the Lone Pine Indian Cemetery Lone Pine Ca, May 14, 2016 at 11:00 am