Lucille Wyona Price
March 13, 1921-December 9, 2017
Lucille, age 96, always known as "Cele" left this earthly dwelling place on the evening of December 9, 2017 with family at her side. Lucille was born March 13, 1921 in Yorba Linda, CA, to Nina Mae Myers and Duncan Caswell Bowerman.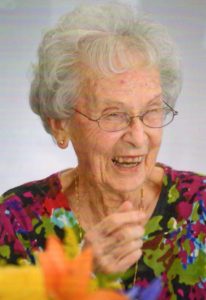 She has lived here in Bishop for the past 72 years. "Cele" was a wonderful wife and mother and gave her time helping young girls at Pine Creek as Brownie Leader for 18 years. She served as President of Round Valley PTA.
She was a Life Member of Mt Whitney, OES and received the Rob Morris Award for outstanding service.
Lucille was preceded in death by her husband, Paul Monroe Price. As she moves on, she leaves behind a grateful family: her children Sharen Price and Linda Prange (Paul}. She will be sorely missed by -her six grandchildren, Price Gillin (Josephine}, Paige Gillin (Kim} and Perris Gillin (Karin), Ginelle Prange, Monroe Prange and Tye Prange
(Stefannye). Nine great-grandchildren will miss her too, Hanna, Annemarie, Nicole, Brennen, Ireland, Lilyeanne, Pierce, Grant and Faith. She also leaves behind many special family members, nieces, nephews and friends.
We give a huge thanks and a hug to all the staff at Sterling Heights and Northern Inyo Hospital. Thanks, Monroe and Anna for all of your support and love. Thank you Dave and Bonnie Buck. We thank all family and friends for love and support.
No formal services at this time. The family and friends will have a Celebration of Life sometime next year. In lieu of flowers you may donate to a charity of your choice.