Lucille Marie Parsons
1929 – 2019
Lucille Marie Parsons, loving mother, sister, aunt, grandmother, and great-grandmother passed away on Tuesday April 30, 2019. She was 89 years old.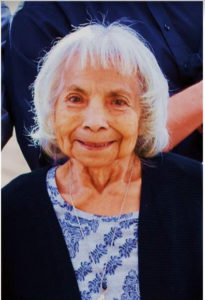 Lucille was born on June 26, 1929 in Arlington, CA to Nat H. Cyrus and Anona Harvier. She grew up in Arizona and later graduated from Big Pine High School, where she enjoyed playing tennis and the drums.
In 1954, Lucille was blessed with the birth of her only child, her daughter Lynda. After Lynda was born, Lucille moved to Lancaster, CA and earned her LVN degree from Antelope Valley College. She later moved to Riverside, CA and earned her RN degree from Riverside City College. In her long career caring for others, Lucille worked as an ER and surgical nurse at Antelope Valley Hospital, a nursing director at a nursing home, and for plastic surgeons in Lancaster, CA and Beverly Hills, CA. In 1985, Lucille moved back to Big Pine and finished her career working at the Big Pine Indian Education Center and Inyo county sanitarium. She also served on numerous tribal committees for the Big Pine Paiute Tribe.
In her retirement, Lucille continued to care for others with that same sweet spirit. She enjoyed caring for her grandchildren and, more recently, her great-grandchildren. Watching them grow and attending their various sports events and other activities brought so much joy to her life. Lucille loved to travel with friends, attend plays, bake, crochet, visit the casinos, and participate with the Big Pine Tribal Elders functions. Lucille was a dearly respected elder of the Big Pine Paiute Tribe and surrounding communities. Her warm presence and sweet smile made every day brighter. She will be greatly missed.
Lucille was preceded in death by her parents, Nat H. Cyrus and Anona Harvier, husband Peeper Parsons, siblings, Velma Williams, Norma Spratt, and Wayne Harvier, and her beloved dog, Johnson, Sr. 
Lucille is survived by her daughter, Lynda Fuller, her four grandchildren, Stefanie Jones, Neil Jones, Keith Fuller (Jaime), children: Evan, Heath, Ethan, Lexy, Jake, and Chessy; Shawn Fuller (Misty), children: Sienna and Mathis, her siblings, Dorothy Stewart, Rita Summers, Nat (Bud) Cyrus, and Donna Duckey, numerous nieces and nephews, and her sweet dog, Johnson Jr.
Services will be held Saturday, May 18th, 11 am at Our Lady of Perpetual Help Catholic Church in Bishop, CA. Interment will follow at Woodman Cemetery in Big Pine, CA and the repast will be at the Alan Spoonhunter Memorial Gymnasium in Big Pine, CA.