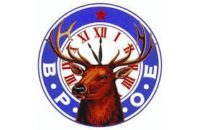 The Elks invites the public and members to a Luau Saturday, September 24th.   Elks Park is at 3301 W Line St. Bar opens at 5pm and the deep pit BBQ with Pork and all the fixings will be served at 6pm. 
This is a ticket event and can be purchased at the Elks office, Monday, Wednesday and Friday 10:00AM to 2PM.  $20 per person and $10 for kids 12 and under. 
For further information, call 760-873-3221.