Nearly 2 years ago, Mono Sheriff's deputies and other law enforcement arrested Mario Lozano who was hiding out at a home in the Crowley area. He was wanted by El Dorado County in the shooting death of Kacie Barron, daughter of Bishop's Lee Barron. A jury earlier found Lozano guilty of first degree murder and in court recently, a judge sentenced Lozano to a term of 50 years to life.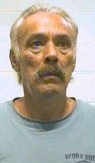 Lozano was found guilty of shooting Kacie Barron, his former girlfriend, outside her home in Placerville in July of 2006.
According to news reports, Lozano appeared in court for sentencing over a week ago. The 60 year old defendant sat emotionless while the brother of the victim read a statement along with two others. Pat Barron told the man who murdered his sister that he did not know how he stayed in his seat during the trial.
News accounts said that Lozano read a remorseless, eight-page statement which drove family members out of the courtroom.