Dick Noles of Bishop likes to open up local resources to the people. One of his latest ideas – to allow Lower Rush Creek to be open to a two fish limit with a longer season.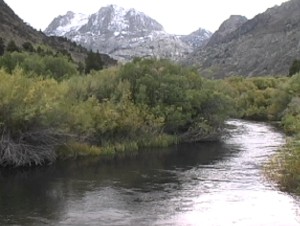 Noles and Fish and Game spoke with the Mono Supervisors Tuesday about this idea. County Administrator Dave Wilbrecht said that the Board did agree a letter of support should go to the State Fish and Game Commission.
Dan Lyster will put together a letter, according to Wilbrecht get it to Fish and Game the first part of the new year. Noles had said that the restored Lower Rush Creek, between Highway 395 and Mono Lake, will remain a wild trout fishery but with the encouragement for bait fishermen to also use the waters.
Under orders form the State, the LADWP has restored Rush Creek that feeds Mono Lake. Noles said that DWP does support the change for Lower Rush Creek as did the local Fish and Game Advisory Committee.