Judge Lee Cooper, who ruled against DWP in the original Lower Owens River case, was back on the bench for more river disputes. The Judge said, "It looks like old home week. Another chapter in the ongoing saga of the Lower Owens River will get underway."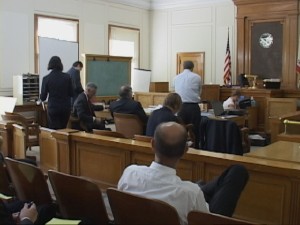 The Sierra Club, Owens Valley Committee and Department of Fish and Game had brought actions against LADWP and Inyo County for allegedly failing to obey the rules in how they are handling the river project.
Attorney Larry Silver for the Sierra Club said LA and Inyo have failed to consult the Department of Fish and Game on the duration and timing of the river flows – something Fish and Game claims expertise on.
Don Mooney for the Owens Valley Committee accused LA and Inyo of failing to certify a document that would be needed before river flows could be increased. Mooney referred to DWP's delays in coming up with the document and likelihood of future delays without official certification.
Judge Cooper said, "I believe I've expressed myself on delays and promises never kept."
DWP's attorney Joe Brajevich said LA would consider increasing river flows. He said the paperwork formalities dont need to be done immediately.
Mooney again accused DWP of chronic failure to get things done. Judge Cooper again commented, "they move quickly when I put a hammer over their head."
The day's arguments boiled down to concerns over DWP allowing enough water to flow in the river. As Attorney Mooney noted, increased flows of 1,286 acre feet in a year would cost LA. The rough cost – more than a million dollars.
Judge Cooper took the case under submission. He told the parties that he had an idea of where he was going but wanted to write it down. Most expect the decision to go public in a couple of weeks.