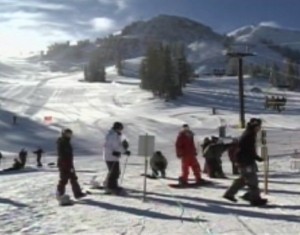 Who could ask for anything more? Real, actual snowfall and man-made snow in cold enough temperatures made for a smooth, beautiful start to Mammoth Mountain's season.
According to Daniel Hansen at the Mountain over 2,200 guests enjoyed the slopes for opening day. They ran six lifts which accessed over 2,000 vertical feet of terrain on over a dozen runs.
As of Friday, Mammoth reported a base depth of 12 to 36 inches of natural and man-made snow. The lifts which ran for opening day included the Panorama Gondola with riding from the 11,053 foot summit via Cornice Bowl. For the week-end, Mammoth planned to continue operating six lifts from 8:30 am to 4 pm daily. Services available include the Broadway Marketplace, Tusks Bar, rental and retail stores.
Weather forecasts for the week of November 15th sound like a possible warming trend. As usual, all will wait and see. Check out the video from Mammoth Mountain, edited by Sierra Wave's Chris Replogle at the bottom of our website front page.