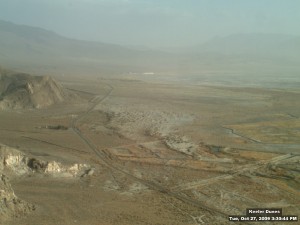 Love 'em and Leave 'em by Daniel Pritchett, Bishop
Los Angeles' conquest of Owens Valley was famously compared to rape by Morrow Mayo in 1932. In 2006, LA Water and Power Commissioner Mary Nichols compared the Owens Valley-LA relationship to a troubled marriage. I suggest "seduction" is the best way to understand Owens Lake Master Plan negotiations. In 2010, DWP made a proposition to just about every environmental group, and county, state, federal, and tribal agency in the valley. Almost all yielded to DWP's advances, enamored of "being at the table" and the MOU DWP promised to negotiate.
The first years were sheer bliss. Frequent meetings were held. Subcommittees were formed and working groups established! Meanwhile, DWP exploited the relationship shamelessly. It used the negotiations as a vehicle for diverting attention from its excessive groundwater pumping, short- changing ranchers their irrigation water, and other abuses of the Inyo-LA Long Term Water Agreement. Last fall DWP even used negotiations in its outrageous media attacks on Ted Schade and Great Basin Unified Air Pollution Control District.
Then, DWP's ardor cooled. For an entire year, no Planning Committee meetings were held and DWP sued some of its negotiating partners. Now, it's official — DWP has jilted them all. In a March 26, 2013 "Dear John" letter, DWP's Marty Adams wrote that DWP intended to develop a management plan unilaterally. DWP needs some space; trying to please all those negotiating partners took too much out of it!
To soften the blow, Adams assured jilted negotiating parties that DWP still wanted to be friends, and would continue to support the negotiations' questionable offspring, the "Habitat subcommittee." This is because DWP is establishing a new wellfield near Owens Lake and wants the subcommittee to decide how much damage DWP can do and still call its pumping "sustainable." Ignored by all parties is the fact that the Inyo County public, at DWP's request, addressed this question of acceptable impacts back in 1999 and said, in effect, "no level of damage is acceptable."
How will this soap opera end? Will habitat subcommittee members meet with DWP, thereby allowing DWP to greenwash its new pumping? Will jilted negotiating partners ever realize DWP's interests are antithetical to their own and they have been used? Time will tell!