June 20,1942 – November 24,2019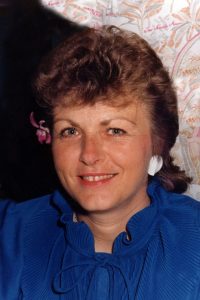 Louray Ellen Mcgrale died in the arms of her children in the home of
her son at 6:40 am on November 24, 2019. She was 77 years old and
had been fighting a relentless battle with cancer for decades.
Louray was born in San Pedro, Ca to Raymond and Cigna (Louise)
Stalmack and spent her childhood in Lomita. Her father worked for the
City of Los Angeles Parks and Recreation Department and was the camp
director of the Mammoths Lakes Camp High Sierra. She spent her
teenage summers there and would later become part of the staff
herself. This is where she met Dennis McGrale, her husband, and later
raised her family. The rest is History. If you are reading this, chances are
that you have a few memories of Louray or experiences that remind
you of her kindness and grace. Others might remember her for her hard
or maybe unconditional love. Some of you may even be lucky enough
to remember her by the home sewn slippers or hot cocoa and
cheesecake. There are many things that will remind us of Louray
McGrale and as we take a moment to remember them, please cherish
them as she had a special place in her heart for all of you.
It is with great sadness that this obituary is written. Louray was
the strongest of the strong. A fighter, a survivor, and an example for us
all to never give up. Think of her and carry the goodness and strength
like a shield and keep going. She made sacrifices daily to give her family
the opportunity to live in this amazingly beautiful environment and it is
with a grateful heart that these sacrifices are acknowledged.
Louray was kind, intuitive, and a realist. She always said to keep your
sense of humor. She was forgiving yet not gullible, a true friend to so
many. She loved to have a good, long conversation with anyone that
was willing to share the moment with her. She mentioned most
recently that she should write a book, but quickly stated, "who would
want to read it?"
Louray frequently stated that Mammoth Hospital saved her life so
many times throughout the years, and she meant those words literally.
The highest honor goes to the staff of Mammoth Hospital for
everything they have done to provide a longer, more memorable life
for Louray McGrale.
A list of Louray's special people is not included because there are so
many individuals she held dear. You know who you are; some of you
were considered her children and part of our family, while others were
lifelong friends.
A special thanks is given to Shannon Mowat, Karen Griffith, and Lisa
Marusicz for giving anything and everything at any given time. And to
the god parents of Louray's children, Alfred and Lydia Carrizosa, much
thanks for all their love and support. Her amazing doctors will always be
in our hearts as well.
Louray's wishes for a memorial were this, "as for services you can do
nothing, or you can throw a big party." That being said, the party will be
held at a later date, sometime early next year. In the meantime, please
share stories of Louray and use her example of relentless effort in your
daily struggles and remember what is important. As time goes, more
information on her life will circulate and a celebration of life
announcement will be made. Be assured that in her last moment she
was proud, peaceful, painless, and present. Words cannot express the
feelings of loss for this mother and Mammoth Lakes California legend.
Louray was preceded in death by her husband Dennis McGrale and
sister Cathy Hoppes. She is survived by her sister Teri Cooney and her
Children, Lindy Webber (Peter), Debbie McGrale, Denise Baker (Jerry),
Cathy Hochrein (Tom), and Raymond McGrale. Her Grandchildren are
Collin Webber, Lauren Webber, Kaitlyn White, Addison Orr, Travis Orr
Brandon baker, Devon Baker, Lily McGrale, and Rylan McGrale. She has
one great grandson by the name of Ayden Orr. There are also cousins,
nieces, and nephews.
An intimate gathering is being planned for Sunday afternoon December
22 nd at her son Raymond's house in Bishop, Ca. People are invited to
gather at Our Lady of Perpetual Help Catholic Church on December 23 rd
at 7:00 am for a Mass Intention for the repose of the soul of Louray
McGrale.
In "Lou" of flowers, there will be a memorial fund for expenses and
charities set up under her son, Raymond McGrale, whom is honored to
adhere to his mother's wishes. Correspondence can be mailed to P.O.
box 1234 Mammoth Lakes, Ca, 93546 or 2606 Irene Way Bishop, Ca,
93514.